HDMI Male to HDMI Male Cable
Type A to Type A*

1.8 meters 6 feet
Latest Version HDMI 1.4v
High Speed HDMI Cable with Ethernet


Supports upto 2160p resolution
Introducing the latest upgrade in the HDMI Specification!
The 1.4 Specification has a number of major enhancements including:
HDMI Ethernet Channel - Adds high-speed networking to an HDMI link allowing users to take full advantage of their IP-enabled devices without a separate ethernet cable.

Audio Return Channel - Allows an HDMI-connected TV with a built-in tuner to send audio data "upstream" to a surround audio system eliminating the need for a separate audio cable.

3D over HDMI - Defines input/output protocols for major 3D video formats paving the way for true 3D gaming and 3D home theater applications.

4K x 2K Video Support - The HDMI 1.4 specification adds support for extremely high video resolutions that go far beyond today's 1080p systems. 4K is shorthand for 4 000 lines wide by 2 000 lines high or roughly four times the resolution of a 1080p display. The term actually covers two formats both supported in the HDMI 1.4 specification:

3840 pixels wide by 2160 pixels high

4096 pixels wide by 2160 pixels high

4K displays will put high-end home theater systems roughly on a par with the state-of-the-art Digital Cinema projectors used in many commercial movie theaters.

Content Type - Version 1.4 enables simple automated picture setting selection with no user intervention. The Content Type feature enables a display to auto-select the correct viewing mode to match the content type it is currently receiving from a source device and to switch modes when a new content source is selected. Content Type supports content profiles for gaming movie photograph and text viewing modes.

Additional Color Spaces – Adds support for additional color models used in digital photography and computer graphics.
AND best of all HDMI 1.4 is fully backward compatible with all HDMI 1.3 devices which means that this cable will work with all current and future HDMI devices. So if you are planning to buy an HDMI cable its better to buy an HDMI 1.4 cable for a little extra as then you will not have to worry about the compatibility with any HDMI devices. Let them bring out the latest technology HDMI devices. You will be well prepared to handle them with this cable !!
with Ferrite Cores*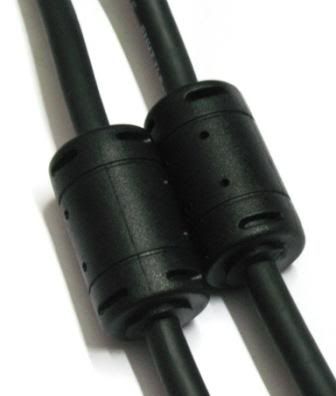 * Ferrite Cores/Beads minimize the EMI/RFI which are the major causes of interference in Digital Signals. They stop the EMI/RFI at the ends of the cable and prevent them from being transmitted.

HDMI (High-Definition Multimedia Interface) cables transfer digital audio and video signals between compatible components like HDTV tuners and HDTV-ready TVs. With HDMI uncompressed multichannel digital audio and high-definition video can both be sent via a single connection. This HDMI Male to HDMI Male Cable is a

high-quality cable that is designed to deliver uncompressed high-definition (HD) digital signals to your HDTV or digital flat panel display for outstanding overall performance. It can also be used with any equipment that supports the HDMI specification. Featuring high-quality materials and construction this cable will provide low signal loss for highly accurate sound reproduction. HDMI is an all-digital audio / video interface capable of transmitting uncompressed streams. HDMI provides an interface between any compatible digital audio / video source such as a set-top box a DVD player Blu Ray Player video game system such as the PlayStation 3 or XBOX360 or an A / V receiver and compatible digital audio and / or video monitor such as a digital television (HDTV) Plasma LCD Projectors. It transmits all ATSC HDTV standards and supports 8-channel digital audio with bandwidth to spare to accommodate future enhancements and requirements.
Now with the introduction of the new version HDMI 1.4 HDMI is even more powerful and feature-rich with great enhancements like 3D Audio return channel Ethernet

HDMI version 1.4 Compliant
High Speed HDMI with Ethernet Audio Return Channel 3D
Fully backward compatible with HDMI 1.3
All Resolutions supported - Full HD 1080p 1220p 1600p .... upto 2160p
Supports standard enhanced or high-definition video at 48 bits/pixel 340MHz max clock frequency.
Supports up to 8 channel digital audio on a single cable eliminating costly A/D signal conversions.
Bi-directional control signal transfer.
10.2 Gbps bandwidth a lot spared for future expansion.
Simple user-friendly connector.
Thickness: 7.3 mm
Length: 1.8 meters
24k Gold Plated 19-pin Type A Male Connector Plug Contacts
High Grade Oxygen-free copper wire
High quality multi-shield cable material according to HDMI Standards to prevent unwanted EMI/RFI interference
Quick Checklist
Cable Type:
HDMI Male to HDMI Male Cable
Length:
1.8 Meters
Most Current HDMI Version:
1.4v - High Speed HDMI with Ethernet
Gauge:
30 AWG (American Wire Gauge)
Bandwidth:
340 Mhz 10.2 Gbps / 120 Hz Refresh Rate
Connector Finish:
Gold
Shielding level:
3x Triple
Shielding type:

EMI (Electromagnetic Interference)
2x Ferrite Cores

Certified HDMI:
Yes
HDCP Compliant:
Yes
CEC Compliant:
Yes
ROHS Compliant:
Yes
UL Standard:
20276
Backwards Compatible with HDMI Version 1.2 1.3:
Yes
Supports Blu Ray & HD DVD 1080p:
Yes
Supports 480p 720p 1080i 1080p 1440p 2160p:
Yes
Supports Lossless DTS 8 Channel Audio:
Yes
Supports TrueHD & DTS-HD:
Yes